About the project
Format: colouring book that turns into a film, app, animation series (10 x 1.5 min)
Animation technique: Traditionally 2D animated characters combined with backgrounds painted by the users
Director: Uli Seis
Script: Alice von Gwinner
Target audience: 4-7
Funded by: Mitteldeutsche Medienförderung, Thüringer Staatskanzlei, Sächsische Landesanstalt für privaten Rundfunk und Neue Medien
Everybody knows colouring books. What if you could colour in a film? See your painted picture come to life as a background in animated stories full of fun and art-loving creatures.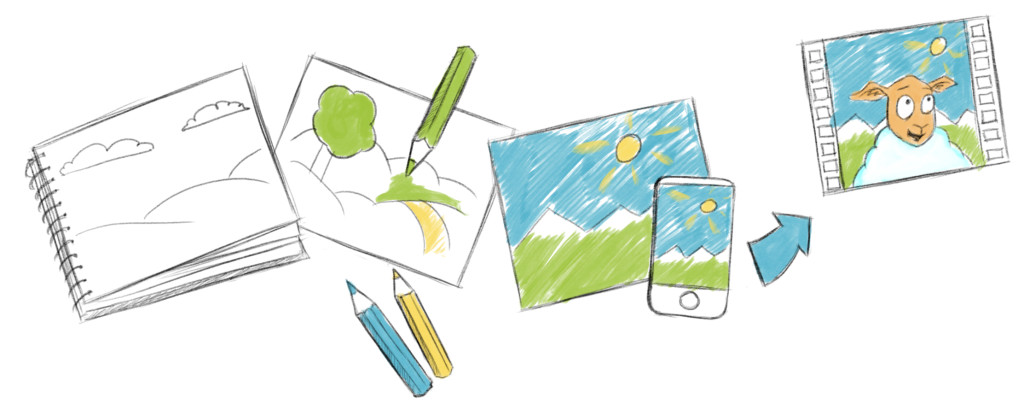 Format – colouring book, mobile app
Draw pictures on real paper
App scans the pictures
App creates a movie, integrates the pictures as backgrounds into a professional animation film.
In animation terms: The whole character animation is already prepared. Children complete their very own version of the film by painting the backgrounds. They are guided by simple layouts in order to assure that animation and backgrounds match in compositing.
Content – animation series tailor-made for the new format
Paint, draw, color in: Characters as well as users cross the borders between reality and fantasy, between paper and film.
Collaborate
Colour in Film is a new format/platform that will be opened for other peoples' animated content as well.
Please don't hesitate to contact me.
mail@uli-seis.de
Try it!